It's not just music, clothes and haircuts that go in and out of style – you only have to look at a 1980s avocado bathroom, with textured wallpaper or Artex ceiling to see how dated décor trends can be.
According to a leading newspaper, there are still 300,000 homes in the UK which feature avocado in their bathrooms with three out of four people saying if they bought a house that had one, it would be the first thing to go! In fact, a study found that an avocado bathroom suite can devalue a house by nearly £5000 (source Daily Mail).
You can go a long way to future proofing your bathroom by looking at the past for inspiration. Here are 7 suggestions for timeless bathroom classics.Free-standing Roll Top Bath.
#1 Free-standing Roll Top Bath
A free-standing bath will be the focus of your bathroom and make a bold statement about your sense of style. They come in several types – some will have claw feet (pictured left) or be a 'bateau' or 'boat style (see the headline picture on the blogs index page). They are also two main styles – roll top or slipper – a roll top free-standing bath is available in single or double-ended designs.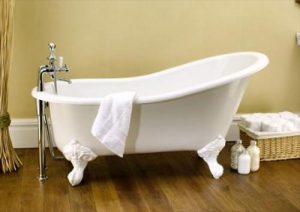 #2 Traditional Wash Stand and Basin
A traditional wash stand and basin has something or an art deco feel about it and certainly brings a sense of space to a smaller bathroom. You can, of course, put items under the basin and it is also quite a neat basin to have in a small cloakroom – the image below shows a small Burlington Round Basin with Chrome Stand.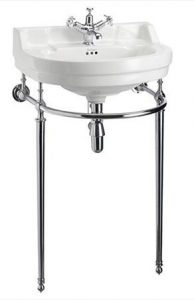 #3 High level toilets
A high-level toilet offers a fantastic method to upgrade your sanitaryware and transform your bathroom. Whilst they don't offer any practical benefits (and you will need a relatively high ceiling to make the look work) the styling is reminiscent of Victorian, Edwardian, and Georgian eras. The cistern is fitted to the wall and connected to the toilet pan by a length of pipe, usually in chrome or sometimes polished nickel. You can also have ornate brackets and mechanism – there is an exquisite example of a high-level toilet in the Neoclassica range here.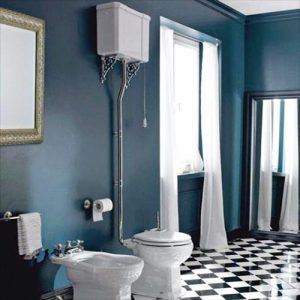 #4 Vanity units
In contrast to washstands and basins, a vanity unit (or 'basin and cabinet') offer neat, out of site storage for your bathroom. Probably suited to a medium or large bathroom, you can opt for a wide unit giving additional surface area on each side of the basin. The cabinet part can either be flat faced or curved although the latter will be slightly more expensive. There is a classic example of a beautiful large Console Basin & Curved Front Cabinet in the Old England Suffolk section.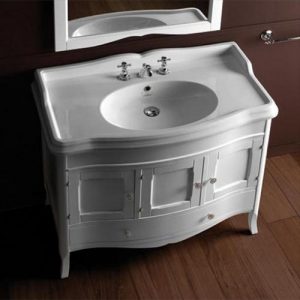 #5 Elegant taps
Taps for the bath or wash basin can make a big impact on the look of the bathroom. The classic feel of a mixer tap with ceramic handles and chrome, gold or nickel finishes make an attractive addition to an inexpensive bath. If you fancy going one step further, we have recently introduced the Free-standing shower mixer, hose and handset by Sbordoni, which would make an amazing addition to a free-standing bath – details and picture here. For a wash basin, a classic cross-head tap instantly adds traditional style for those with discerning tastes and a penchant for the highest quality.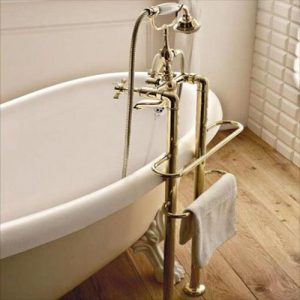 #6 Radiators and Towel Warmers
Some of these can be plumbed into central heating while others are electrical – but either way they can be moulded in a traditional style and made in brass with Chrome, Polished Nickel or Antique Gold finishes. The Victorian Towel Radiator (pictured) is always a popular addition to an old fashioned style bathroom.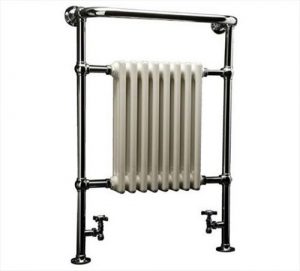 #7 Bathroom Accessories
You don't need to spend a small fortune on a bathroom to make it look timeless and classic. Some quality accessories can really make a difference. Why not dispense with a plastic toilet seat and instead opt for a wooden British made traditional toilet seats like one of those in the Foresters or Roper Rhodes ranges. Other accessories such as towel rails, soap dishes/holders, toothbrush tumbler, mirrors and even the humble toilet brush holder can all add elegant touches to your bathroom. Old Fashioned Bathrooms has a  fabulous collection of beautiful Sbordoni bathroom accessories wholly crafted in Italy – click here for details.
If you need any help or advice with you bathroom design and fittings, please do not hesitate to call our expert Suffolk-based team on 01449 711782 or email sales@oldfashionedbathrooms.co.uk