Steel Baths
Baths made out of steel – what's the big deal?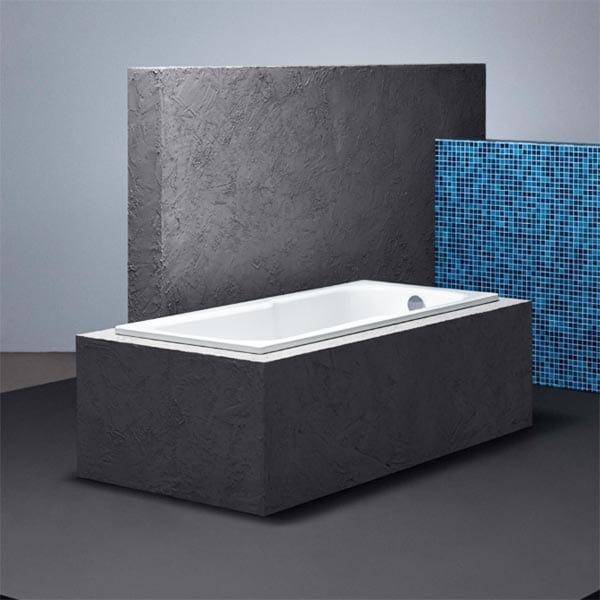 What is a Steel Bath?
Steel baths are made from a single sheet of titanium-steel that is moulded or pressed into ultra smooth, curved shapes. The clean, crisp lines and flowing angles make them perfect for designer modern bathrooms, whilst the pure white enamel surface is hygienic, easy to clean and also impact, scratch and chemical resistant. The thermoforming manufacturing process used by Bette to create each steel bathtub highlights extraordinary craftsmanship and precision.
Steel baths continue to grow in popularity and offer an alternative to more common, modern acrylic baths styles. Due to the high-quality and impressive craftsmanship, steel bathtubs command a premium, however, with a 30-year warranty, they are a fantastic bathroom investment.
Browsing for your perfect tub? Shop our freestanding bathtubs.
Shop Bette Steel Baths
Old Fashioned Bathrooms are official Bette steel bath stockists.
We are delighted to offer a 30-year guarantee with every steel Bette bath.
Steel baths vs Acrylic baths
Are steel baths better than acrylic?
Unlike acrylic bathtubs that are affected by a degree of movement when used as a shower, steel baths offer a much stronger and robust surface that does not move over time. Although steel baths are cold to the touch, they retain hot water warmth well, much like acrylic alternatives.
Another great benefit of steel baths vs acrylic is that the glazed titanium steel is impact and scratch resistant. Furthermore, the surface is resistant to chemicals, so there's no need to worry about those spills!
Reasons to buy a Steel Bath

Heat retention: Steel baths retain the heat of the bath water better than many other styles. If you enjoy having a long soak you won't need to keep topping up the hot water as quickly as most other metal baths!

'Quiet' design: A slightly quirky feature of steel baths is that they are relatively 'quiet' – if you use a shower in an acrylic bath it is echoey and loud due to the properties of the material, whereas a smooth enamel coating of the Bette bath plus a curved shape doesn't have this issue.

Eco credentials: The manufacturing process of a steel bath ensures that when the bath does eventually come to the end of its life, it can be recycled so you can even do your bit to help the environment!
Why choose a Steel Bathtub?
Steel baths offer a really good alternative to heavy cast iron baths and modern acrylic bath styles without compromising on design. They can certainly add a touch of class to bathrooms for those customers who want to stay away from run-of-the-mill acrylic tubs. In addition, steel baths are a more suitable option where bathroom access issues and floor-weight limits may apply. Steel baths or titanium-steel alloy and enamel tubs are the perfect compromise between heavy cast iron and standard acrylic baths, whilst also looking terrific!
The trend to have retro and Victorian style bathrooms has seen cast iron baths, along with those made from copper or nickel plate, have quite the revival. Although freestanding cast iron baths often look fantastic they are not always the most practical option – they weigh a ton (literally) so access via stairs is not an easy task!
Traditional iron baths also absorb a lot of heat from the water making it go cold quicker – certainly not ideal for those chilly winter evening soaks. Other bath materials such as copper or copper plated with nickel look amazing (check out our bateau baths but may be out of the reach of many people's budgets when designing or renovating their bathroom.
30-year warranty
Against any manufacturer defects
Did you know?
We sell an extensive range of quality freestanding baths online!
All our tubs are carefully designed for both comfort and style and are sure to add a touch of luxury to your bathroom design.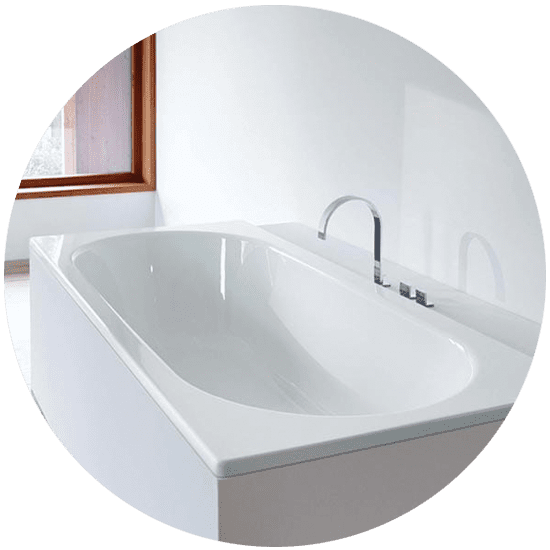 We're here to help
With so many bath styles to choose from, we know that deciding on your perfect bathtub is a big decision! That's why our team is dedicated to helping you with any questions you may have.
All our Bette steel baths come with a 30-year guarantee, giving you peace of mind if anything goes wrong. We also offer a price match guarantee that applies to any comparable product at a genuine price.
If you're local to our bathroom showroom in Mickfield, Stowmarket, UK – why not pop in to try out our range of freestanding baths. You can visit our contact page for travel and contact information.