Today's blog post has been created in order to offer insight when it comes to choosing the perfect toilet seat! Strength and durability are a must have alongside a high-quality hinge set giving better seat support.
Good toilet seats come in a variety of colours offering regular or slow closing lids, with the latter proving sought after. Support is generally better and slow closing lids usually have more than two bowls to seat contact support points, not to mention they are more sanitary and easier to keep clean. Some of the newer seats have rubber supports that don't allow the seat to shift from side to side. At Old Fashioned Bathrooms we look to offer the best Toilet Seats in each price bracket.
Like many products the very best usually come with a high price, however, you can find an unbelievable value for money, and with this, in mind, we are going to take a toilet seat from each price bracket offered at Old Fashioned Bathrooms: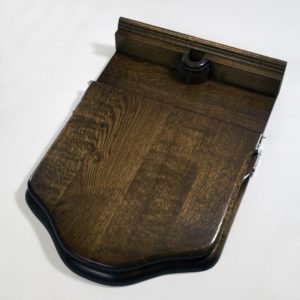 Bristol Throne Seat, Dark Oak £470 – click here
This is the Rolls Royce of toilet seats at Old Fashioned Bathrooms. Made in Suffolk from solid European oak, our toilet seats are hand finished enhancing the unique grain pattern of every product. The seat is sealed with an extremely hard wearing AC lacquer to protect and ensure a new look for many years to come. The Bristol Throne Seat compliments any bathroom adding to the overall style and is available with solid brass or chrome plated hinges and stainless steel fixing bolts.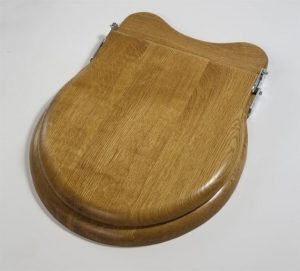 Sandringham Toilet Seat, Light Oak £360 – click here
A good solid toilet seat, the Sandringham is an excellent piece. Once again the product is hand finished to really enhance the grain quality. The hinge finish is available in Chrome or Brass, allowing for extra elegance. We take the view of looking after the small things and the big things take care of themselves. So by looking at the finest detail, we can ensure a quality piece of bathroom furniture is produced.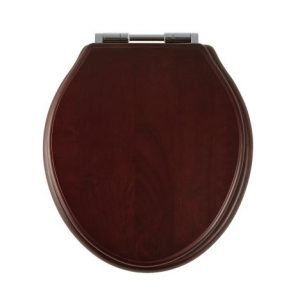 Traditional Oval Shaped Toilet Seat, from £77.52 – click here
If you're looking for a toilet seat at the lower end of the budget, you can't go far wrong with this piece! A traditionally sized mahogany toilet seat with chrome plated soft-closing hydraulic hinges for a controlled and quiet closure of seat lid and ring is available right here. An ideal replacement, the traditional toilet seat is precision made with non-slip features and non-loosening hinges. Supplied with corrosion free hinges and screws and colour coordinated buffers, this solid wood option has a dowel reinforced seat ring for extra strength. An extremely hard wearing toilet seat which has an impact resistant surface.
Accessorising completes the look of any room and we hope you have gained some inspiration from this post. Remember, you can stay up to date with information, products and services via our Facebook and Twitter pages.