Close Coupled Toilets
Close coupled toilets explained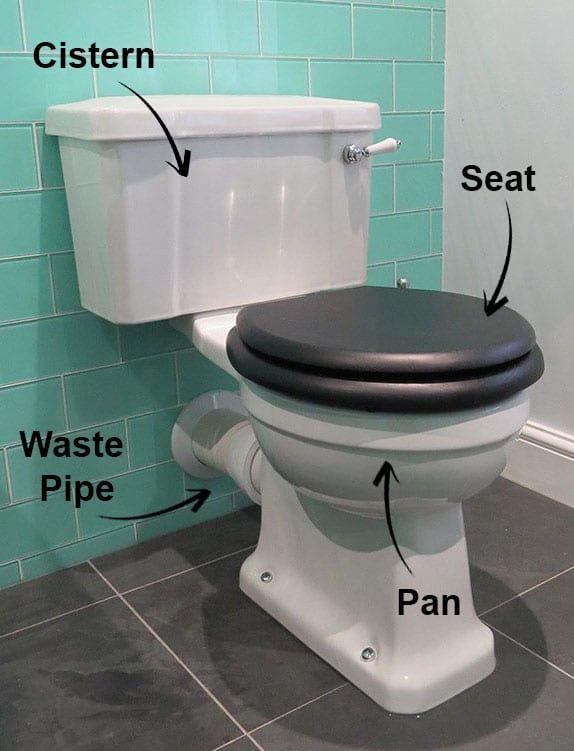 What is a Close Coupled Toilet?
A close coupled toilet sounds complicated but it's not. Essentially, a close coupled toilet is the type of toilet you'd normally think of if someone asked you to picture one – the cistern is located directly behind the toilet bowl instead of being high up in the more traditional design of the high and low-level toilet styles. Manufactured in both modern and traditional styles today, close coupled WC's are the most popular toilet style in the UK.
How do they work?
Depending on the design, flushing can be activated via a flush button or a handle – through connecting parts, the water goes straight from the cistern into the bowl. Most of the parts on a typical close coupled toilet are hidden within the casings, ensuring close coupled WC's can fit into most bathroom spaces.
One great thing about the close coupled toilet is that the style can suit any bathroom. As the cistern and bowl are coupled together, you can have a sleek unit designed to fit into a thin space or a more expansive traditional unit that stands out a little more.
Reasons for Choosing a Close Coupled Toilet
Close coupled toilets are the most common WC you'll find in homes across the UK. This is because they are…

Hardwearing
Because the cistern and bowl are in such close proximity, this style of toilet is sturdy and not as prone to damage as other styles.

Easy to Install
Close coupled toilets are quick and easy to install, especially in bathrooms when the toilet is being replaced but a full remodel isn't taking place.

Versatile
These toilets are suited to any home, with options that can fit with any décor preference and style.

Fashionable
Partly due to their versatility, close coupled toilets are fashionable and unlikely to go out of style anytime soon.

Minimalist
Toilets are a necessity of life, but that doesn't mean they should be huge and ostentatious. Close coupled toilet offer a minimalist design that works with other styles.

Low Cost
Thanks to their straightforward design and popularity, these toilets are comparatively low in cost and installation costs are likely to be cheaper than other options too.
NOTE: Something to remember about close coupled toilets, though, is that the waste pipe will be visible feeding into the wall and this might not be to everyone's liking. However, thanks to the sleek and minimalist design of close coupled toilets, it's not usually a huge problem.

Did you know?
Old Fashioned Bathrooms also offer a wide variety of traditional high level, low-level and decorated toilet styles online.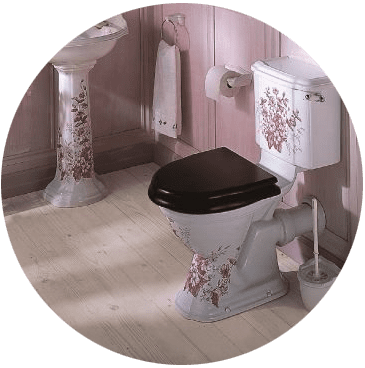 Traditional toilet experts
All Old Fashioned Bathrooms traditional toilets are manufactured to exact standards based on beautiful designs in keeping with the original pieces. Most WC's come with a choice of 'Cistern Width' and 'Flush Type'. Please give us a call if you have any questions.
Please note, most toilet styles are sold without a toilet seat. To view our range of high-quality toilet seats please visit this page.
Drop into our showroom or give us a call for more information – we can ensure you'll be enjoying your new traditional loo in no time!