Slipper Baths
Ultimate guide to slipper bathtubs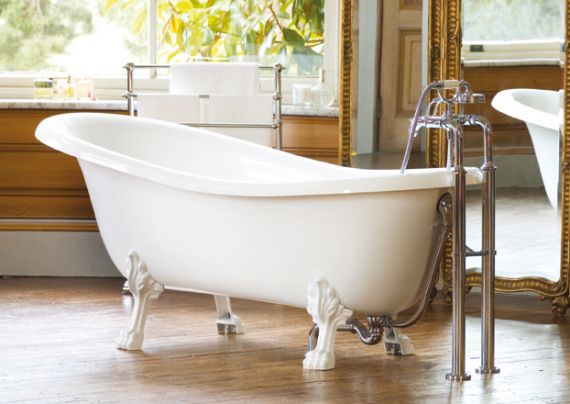 What is a Slipper Bath?
Slipper bathtubs are iconic, noted for their traditional roll top sloping shape that offers a luxurious bathing experience at the same time as providing support for the body. As you might expect, these baths were named because they have the vague appearance of a slipper, although designs necessarily vary from bathtub to bathtub. You might have wondered, are sipper baths comfortable?  The sloping end provides support and the depth of a slipper bath makes it perfect for a long soak.
A variant of the slipper tub is the double ended roll top, known sometimes as a "boat bath" thanks to its shape. Whichever style you prefer, the freestanding slipper bath denotes luxury and is a beautiful addition to any traditional bathroom.
History of Slipper Baths
Slipper baths originated in the Victorian era, made initially from cast iron and coated with enamel.
The slipper tub appeared at a time when bathing was becoming more popular and the link between cleanliness and healthiness was being made explicit by authorities. In fact, the slipper tub was the working-class bathing option of choice in public bathhouses due to the privacy offered by the sloping sides. Those connotations have largely disappeared and today slipper bathtubs are known as stylish and luxurious, and a sloping bath can offer a comfortable alternative to some more modern baths.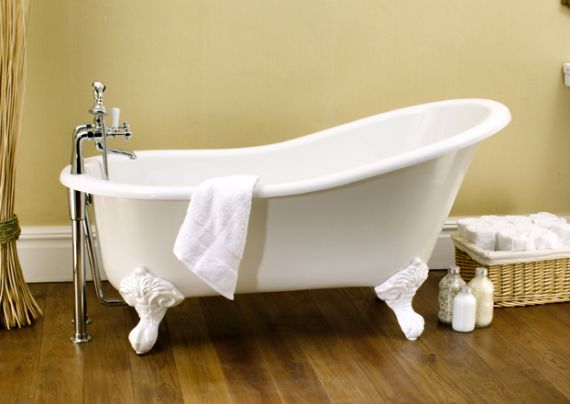 Things to Consider When Buying a Slipper Bath
Before you commit to buying a slipper tub, here are some key considerations to think about…

Bathtub Weight
How heavy is the tub? Remember that a cast iron roll top bath tub needs to be moved into place and potentially moved for cleaning every now and then.

Water Capacity
Is the water capacity enough for your needs? Don't forget to check you water tank capacity to ensure you can fill the bath!

Bath Feet
What are the feet like and will they fit with your intended style? Bath feet can be chosen per tub design.

Tap & Waste Location
Where is the waste pipe going to be located? What will the tap placement be? This will impact how the freestanding slipper bath will look in your bathroom.

Design & Style
Is a traditional slipper tub or a "boat" bath more suited to your needs and bathroom style?

Warranty
What level of warranty comes with the bath? We offer 25-year guarantees on most tubs.
NOTE: If you're uncertain about anything, it's always best to check before buying. We're happy to help if you have slipper tub questions.
What Are They Usually Made From?
As mentioned above, the original material used for slipper bathtubs was cast iron with enamel. This is still available today, although the stylised options are vastly increased to allow for a level of personalisation suited to modern bathrooms.
Along with cast iron with enamel, acrylic and volcanic limestone are two popular choices for slipper bathtubs. Acrylic is an excellent retainer of heat, meaning that the bath water will stay warmer for longer, plus it's a comparatively simple material to repair should something go wrong.
On the other hand, volcanic limestone with resin represents an unparalleled splash of luxury for any bathroom. Again, it's a brilliant insulator and it's also a naturally durable material so there'll be less damage from day-to-day use.
What Style of Bathrooms do They Suit?
Slipper bathtubs are freestanding, so they do require at least a small amount of space around them to fulfil their aesthetic potential. That said, relatively small slipper baths can offer a comfortable bathing option even in a small bathroom. Thanks to the sloped design of the tub, it allows the user to fully relax without the need for a full-sized bath and so it can be an economical use of space – and so can be the perfect bathtub for a small bathroom.
Equally, a freestanding slipper bathtub can be the centrepiece of a large bathroom. The design draws attention and can act as the focal point for a large, traditionally-styled bathroom with complementary tiles and accessories.
Due to the colour options available on many slipper baths, there's also the opportunity to make your tub uniquely yours, fitting with any bathroom style you might have in mind.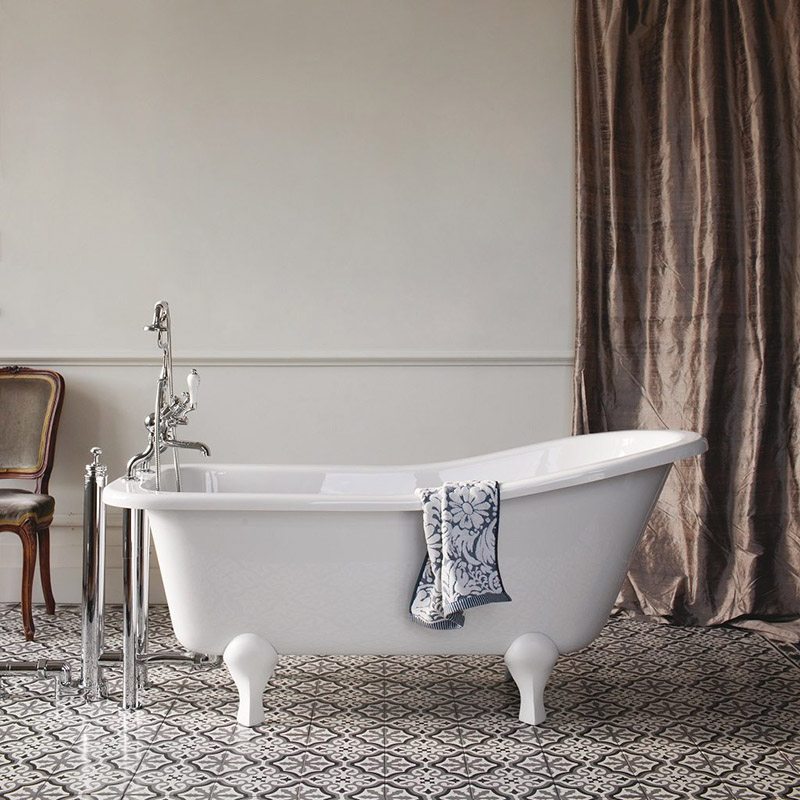 Shop Slipper Bathtubs
Here are some of our popular slipper bathtubs that would suit a variety of different bathrooms:
For the traditional elegance of the Victorian era, choose the style that would've been found 150 years ago in bathrooms and bath houses. It has a raised back, a lifetime guarantee and the exterior can be painted in over 400 colours.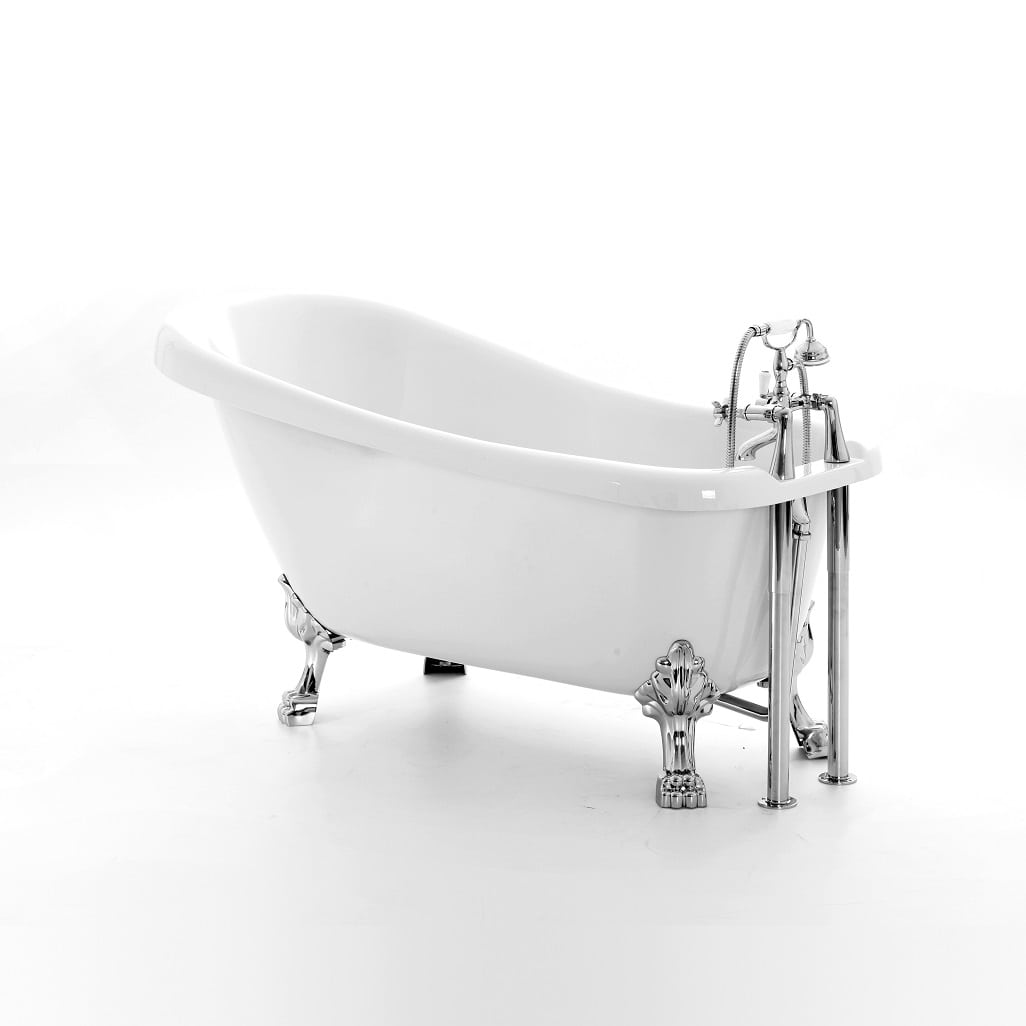 This roll top slipper bath incorporates a tap platform and chrome-plated aluminium feet. The acrylic bathing surface and exterior are both resin filled to ensure rigidity along with warmth and comfort. Again, the exterior can be painted in a variety of colours.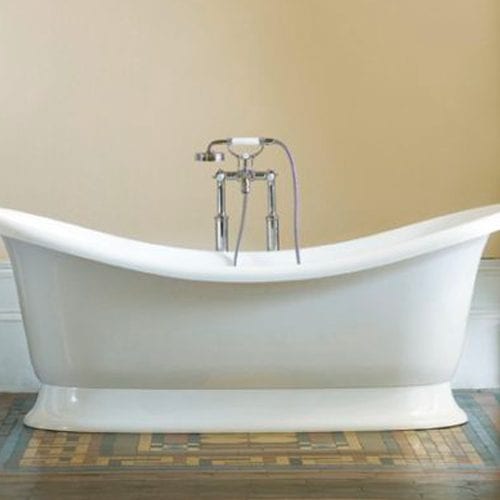 The Marlborough is the height of luxury, made from a one-piece casting of volcanic limestone and resin that has a high gloss finish. It's backed by a full 25-year guarantee and is available in seven colour finishes.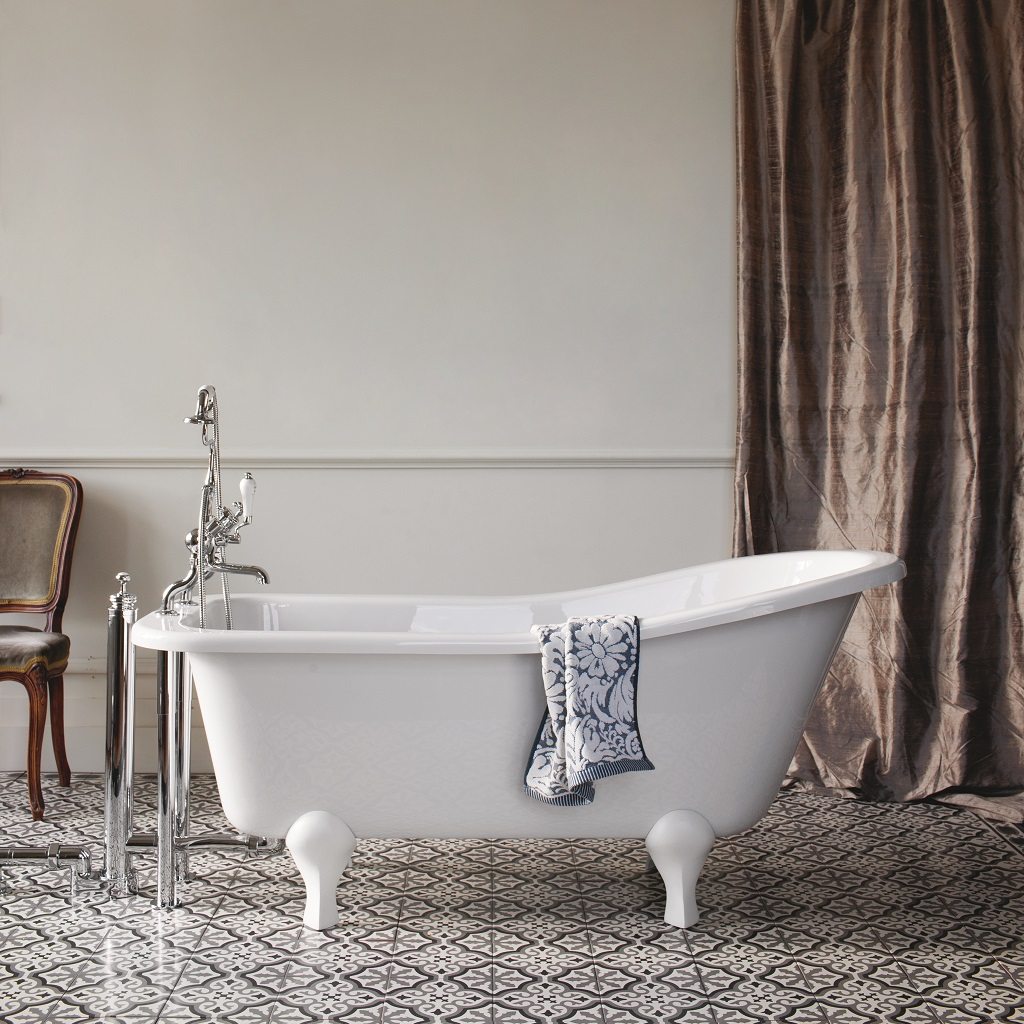 Perfect for smaller bathrooms, the Burlington Buckingham is made from hard-wearing acrylic that can be painted with a variety of colours. Personalisation of the feet is a key component of this freestanding slipper bath, with 9 options available.
Did you know?
Old Fashioned Bathrooms sell a huge range of luxury roll top, cast iron, steel and acrylic freestanding baths online.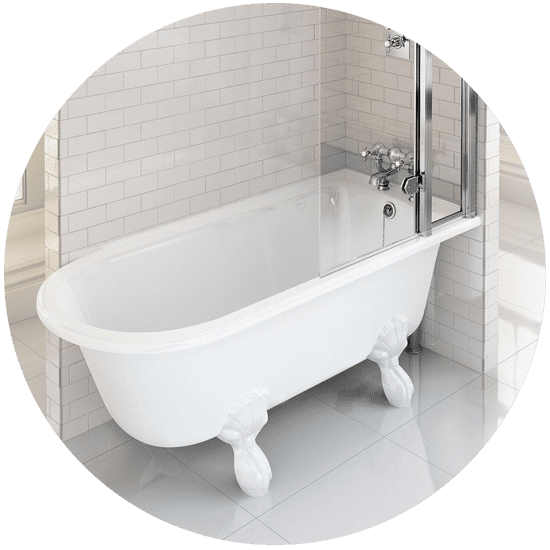 Slipper Bath Experts
All Old Fashioned Bathrooms freestanding slipper baths are manufactured to exact standards based on beautiful designs in keeping with the original pieces.
We are proud to offer 25-year guarantees across most of our slipper tub range. If you have any questions about tap holes, exterior paint or feet finishes, please get in touch with our friendly team.
Drop into our showroom or give us a call for more information. We're here to ensure you'll be soaking in your new slipper bath in no time!